Welcome to Haunui Farm, Karaka, New Zealand.
Almost sixty years of high achievement provides the background to the adventurous and carefully planned 2011 relocation from Whitford to the prized rural landscape of Karaka. It is a move that has provided the ideal springboard to build on the traditions of success founded by three generations of the Chitty family.
The original Haunui Farm was founded in 1955 by my grandparents, Geoff and Peg Chitty, who nurtured an original hobby activity into an expanding commercial enterprise which grew to prominence under the guidance of my parents, Ron and Carolyn.
Ron took over the reins in 1975 and when the decision was made to move to Karaka, he was the perfect project manager to plan and establish a purpose-built facility which answered every requirement of efficient management and animal welfare.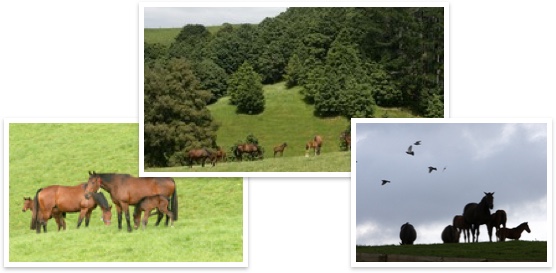 In terms of location, Haunui Farm could not be more ideally situated. We are conveniently wedged between the southern entrance to Auckland city and, the gateway to the large thoroughbred populations of the Waikato region with the added advantage of having the world renowned Karaka sales complex on our doorstep.
Consistent with the past is the continuation of the rock solid Haunui Farm philosophy – that only our closest attention to detail will provide the results our clients seek and deserve. Those details range from upholding the highest standards of horse husbandry to experience-backed pasture management, on-site veterinary services, access to high profile stallions, genetically planned mating of mares, upmarket and safe facilities and, professional marketing.
It is to this environment that I, the third member of the Chitty family at the helm, along with our dedicated and hard-working staff, proudly invite you to share the unique Haunui experience.